The task? Create something inspired by Anthropologie for a fraction of the cost. Anthro is SO COOL, SO DROOL-WORTHY.....
...but seriously you would have to be hitting the bong professionally to pay their prices. $148 for a shower curtain?! $128 for a throw pillow...yes....a THROW pillow!
So I'm thinking to myself, "oh I got this one in the bag! I know exactly what I'm going to do!"
Then. LIFE. happened.
After a whirlwind weekend of latin dance competition and a beginning of the week filled with trying to get the house back in order, I just ran out of time. So, lame as it may be, I'll show you what I intended to do and hopefully I can show you the real deal in a few days!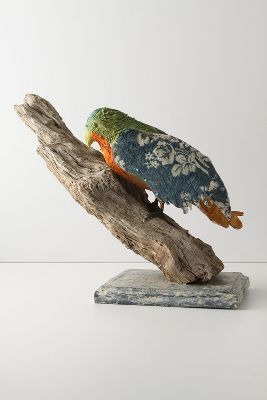 These are "one-of-a-kind" Nomad Flyers and this can be yours for just......$328! I wonder if the buyers at Anthro feel a little dirty sometimes....
Enter the famous Dollar Tree birdies that have been flying all over blogland...
(photo courtesy of Jane at Finding Fabulous, because I'm too lazy to pick up my camera and go shoot a pic of my birdies!)
So my idea was to take torn pieces of printed scrapbook paper and decoupauge them to the birdies to imitate the "Nomad Flyers" from Anthro.
That's the idea anyway, we'll see how it turns out and I'll post on it soon, hopefully!
I'll leave you with more pictures of the "I could buy an Ikea SOFA for the price of one bird" beauties....